Waterproofing Your Leaky Basement
Lets Fix Your Leaky Basement
A leaky basement can cause a lot of problems for homeowners. Not only is it a hassle to clean up, but it can also cause damage to your home and property. Waterproofing your basement before problems arise is the best way to prevent problems, but if your basement is already being infiltrated with water, then it is time to contact a professional to assess and repair the situation.
Waterproofing – Sources of Leaks
Leaks can come from a variety of sources such as: broken pipes, improperly sealed windows or doors, cracks in walls or flooring, or a faulty sump pump. Finding the source of the leak is the first step in fixing the problem and preventing future water infiltration.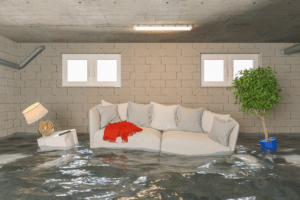 Waterproofing – Damage
Regardless of where the water is coming from, it can cause damage to your home and be a safety hazard for you and your family. Many don't realize the devastating effects that water can have on your home and belongings. Water can not only cause damage to your things, such as furniture, documents, and other belongings, it can cause damage to your walls, flooring and other areas of your home as well. Mold and mildew can also form which can cause respiratory issues and/or allergies. In addition, standing water in your basement can be a threat if it comes in contact with electricity. The water may come in contact with wires or outlets and hold an electric current. If you ever have standing water in your home that may have come in contact with some form of electricity, then do not enter the water to investigate the leak. Doing so may cause electric shock and could be deadly.
Waterproofing – Repair Options
Repair options depend on the source of your leak, as well as how large the leak is. Other factors will include the how long the leak has been going on. If your basement was victim to an invisible leak, which is a leak that occurred away from your view such as a burst pipe inside the wall, a leaky toilet, or inside your crawl space, then other measures may need to be taken to repair your drywall and/or flooring.
Smaller repairs include:
Repairing pipes and/or pipe seals
Sealing around windows and doors
Replacing or resealing a toilet
Larger repairs include:
Adding a sump pump
Constructing an indoor or outdoor French drain
Installing a Grip-Tite® Push Pier System
Installing a Grip-Tite® Wall Anchor System
If the source of your leak is structural and coming from cracks in your foundation, then installing a push pier or wall anchor system to help counteract the pressure on your foundation may be the best option. This can also prevent further damage down the road as your foundation continues to settle. In addition, if you notice cracks in the dirt around your home, this indicates that your soil is shrinking which can also reap havoc on your foundation. A professional waterproofing expert can assess your home's current needs and advise of the best course of action to take to prevent leaks and damage to your home.
Waterproofing – Prevention
You can prevent leaks in your basement by regularly inspecting and maintaining certain areas of your home. Check for gaps or loose seals in doors and windows and do a quick check of the foundation outside of your home. It is also a good idea to have a professional waterproofing company inspect your home annually. If you have a sump pump, then make sure it is in working order by having it inspected as well. This easy and quick inspection process can save you time and money in the future by keeping water out of your basement.
Advanced Basement's trained technicians can help repair your leaky basement, as well as provide preventative basement waterproofing solutions to ensure your basement stays dry this fall.