Waterproofing Your Basement in the Winter
Waterproofing Your Basement
As with many home improvement projects, waterproofing your basement may be something you've thought about doing during the rainy spring season, but waterproofing in the winter may help prevent damage to your basements foundation.
Internal Waterproofing:
Cracks
When the presence of snow, ice, or even frozen temperatures exist it can affect the soil that your foundation is resting on. As the moisture in the ground freezes it will cause the soil to expand. This can then cause mild shifts in your foundation and/or hairline cracks. As the freeze/thaw cycle continues during the cold winter months, these cracks can expand further with the presence of water inside of them. As a result, the freeze/thaw cycle of the ice and snow in the winter can reap havoc on your basement's foundation.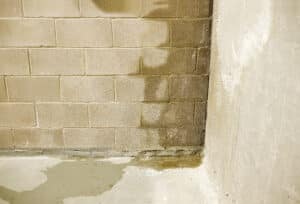 During the winter you can have these cracks filled and repaired as long as they are non-structural. The waterproofing method most commonly used to fill cracks is polyurethane injections. The entire length of the crack is filled with polyurethane, either an epoxy or foam, which then expands and fills the area inside of the crack. This is a permanent repair method which should only need to be done one time. The substance used to fill the crack is weather resistant. This method helps to avoid further expansion of the crack and potentially larger problems over time.
Drains
If you have drainage problems in your basement, a weeping tile system can be installed during the winter months. This drainage system will redirect water away from your home's foundation and into a drainage system that leads to a sump pump. This system is installed inside of a trench in your basements flooring. The upside to installing an internal system versus an external drainage system is that your home's landscape will not be compromised. This type of system works best in unfinished areas of your basement. A waterproofing expert can provide more information to help you decide if this type of system is right for you.
Pumps
A sump pump is a common addition to new construction homes no matter where you live. Sump pumps will pump water away from the interior of your home to the exterior via a pipe. Most sump pumps that are installed are automatic and have sensors that can determine if water is present. There are manual sump pumps available but they prove to be highly inconvenient for homeowners as they have to be manually turned on. This is not ideal in an emergency situation.
Crawl Spaces
If you have noticed that your crawl space area has become damp there are several options for solving this problem. Installing a sump pump or drain, as described above, are a couple of options that may remedy the problem. Another option is installing a dehumidifier if the moisture content is not too high or an alternative is to seal the entire crawl space. Again, a waterproofing expert can help you decide which option is best for you.
External Waterproofing:
As you may expect, external waterproofing is something that should be done during the warmer months of the year. Digging the frozen ground can prove to be more difficult and possibly cause other issues. So unless you have an emergency drainage situation leave external jobs for spring, summer, or fall.
If you are tired of a damp basement floor, contact Advanced Basement to see how you can waterproof your home this winter.