Rock Solid Wall Reinforcements
Soil pressure can fracture a block or concrete foundation wall causing horizontal and vertical cracks and/or bowing. The foundation must be stabilized to assure that you will retain the full value of your home.
A fractured basement wall is a serious trouble and a major hamper on the value and sale of your home.
Fortress Stabilization Systems has developed a Carbon Fiber/Kevlar™ grid that will halt any further movement of a block or concrete wall. It will do it easily, safely and without any outside excavation.
The grid lies flat against the wall and when painted over are hardly noticeable. Your wall will NEVER bow or crack again.
Fortress is committed to the R&D of carbon fiber as a structural reinforcement:
Fortress Stabilization is a pioneer in developing products and procedures that will add new life to existing structures. Fortress tests different products, materials, epoxies, and application techniques in order to deliver the strongest, most durable, and versatile structural reinforcements.
Replacing steel with carbon fiber:
Carbon fiber is now a proven popular alternative to steel for reinforcing structural substrates in residential and commercial applications. Carbon fiber is highly effective at adding tensile strength to concrete. It is superior to steel since it is stronger, stiffer and non-corrosive. It also can be bonded to the surface of a concrete structure at any time to stop bowing and cracking. This allows limitless applications for new construction, repair, retrofit, and seismic upgrades.
The history of carbon fiber:
Until recently, carbon fiber was exclusive to aerospace and military – where cost was not a consideration. Now carbon fiber is produced in large quantity, in an assortment of forms, and utilized in a wide variety of industries. The increased production lowered the cost into the range for residential, commercial, and industrial construction and restorations.
Studies conducted over the last 20 years confirm that carbon fiber is a strong, durable and safe product. Carbon fiber does not rust nor is it susceptible to
alkali deterioration. Once carbon fiber is encapsulated in an epoxy matrix it's strength is locked in. It will not stretch, creep, or bend over time.Fortress Stabilization is committed to developing products with the performance characteristics of this material in a simple reliable application method. When Fortress introduced their Carbon Fiber/Kevlar™ Grid system they revolutionized the foundation wall reinforcement industry with quality, strength and a level of standard that is second to none.
The Fortress Carbon Fiber/Kevlar™ Grid System:
This unique grid system delivers properties unmatched in the market today. The patented Fortress grid is the only pre-cured product that is fully encapsulated in epoxy. Others are simply glued onto the wall and can peel off. Every hole in the grid allows the outer epoxy to touch the inner epoxy forming an epoxy rivet. These rivets act as rip stops preventing the grid from peeling off. In addition, it allows visual inspection for resin voids and air pockets.
The grid is very thin allowing it to form around a bowed wall. Used in conjunction with the vacuum lamination system it is possible to reinforce bowed walls where solid plates would spring off.
The Fortress Stabilization System advantages:
Cost-effective
Non-obtrusive – lays flat to the substrate
No destructive attachments
made to the floor or ceiling
Inclusion of Kevlar™ provides
additional shear strength.
Grid is fully encapsulated in epoxy
anchoring it in place
Able to conform to bowed walls
Can be painted for a smooth clean look
Quick labor saving installation
Vacuum clamping system ensures regulated void-free bond every time
The Fortress Clean-Peel™ backing strip provides a clean prepared bonding surface
Pre-mixed toughened epoxy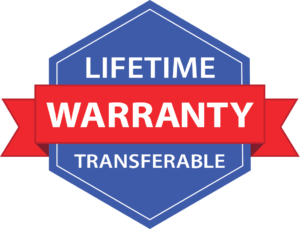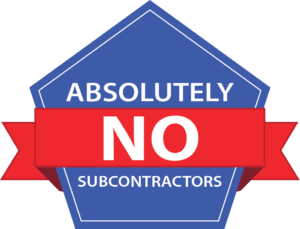 High Pressure and Oversell/Upsell Sales Tactics

Sales Personell try to upsell you services that are not needed during the sales visit and installation

Higher Costs and Overhead

Franchise Fees, Corporate Overhead, and National Advertising Campaigns are added to the price of every job.

Sales Games "assembly line" type-service with Underqualified Customer Service

Phone Calls result in leaving messages.
Advanced Basement Solutions
Nationally Certified

100% in-house staff to complete all of your projects

Fully Licensed and insured

Lifetime Transferable Warranties

Products made in USA

We obtain products directly from manufactures who produce, test, and warranty the product locally – not products that are made to be cheap and don't not last

Obtain All required permits

We legally obtain permits to adhere to licensing and insurance essentially

Quality Installation in a reasonable timeframe

Award Winning Customer Service

Quick, Friendly, Knoweledgeable staff

Fair and Reasonable Pricing
No warranty

Low quality products found at local hardware store

No licensing or permits, No insurance

Results: frustration, wasted time & money
Contact us for a free consultation.