Advanced Basement's Interior Waterproofing
Interior waterproofing is not only important if you have noticed signs of water in your home's basement, but it is also important to prevent possible future damage to your home. Waterproofing can be done to prevent issues from occurring, such as leaks or mold and mildew growth, to prevent water from leaking into your home or to prevent structural or property damage to your home.
There are several waterproofing methods that can be done on the interior of your home, such as dehumidifying, Safewall Waterproofing panels, and interior excavation. Not all interior waterproofing methods are recommended. It is best to have your basement or crawl space evaluated by a professional to determine the best course of action for your home's needs.
Dehumidifying
Since the walls and floors of basements constantly absorb and retain moisture, homeowners may notice a musty smell and or condensation buildup on their basement walls. Once condensation is noticeable it is a good idea to take preventative measures to keep your home's structure intact and to prevent mold and mildew growth. A great, noninvasive way to alleviate basement and crawl space condensation issues is with a dehumidifier. Dehumidifiers can be installed easily and are highly effective in reducing the amount of moisture in your basement or crawl space. There are many sizes and brands of dehumidifiers to choose from. Your waterproofing experts will be able to assist you in finding the right one for your home's needs.
Safewall Waterproofing Panels
For homeowners that have noticed condensation buildup on their basement walls or on other interior spaces, Safewall Waterproofing panels may be a great option. Safewall Waterproofing panels can be easily installed and provide a cost effective solution. Not only do the walls help resist water from entering your basement, they will also redirect water to your interior drainage system if it does happen to get in.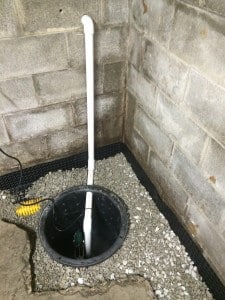 Safewall Waterproofing panels are mold and mildew resistant, as well as flame resistant and also provide a cleaner, brighter look to your basement walls.
Interior Excavation
Interior waterproofing is a less expensive and less invasive waterproofing method as compared to exterior excavation. Interior waterproofing methods consists of drainage systems that remove water from the basement to an outside drainage area, which moves water away from your home.
Sump Pumps: When heavy rain or melting snow causes a buildup of water to seep into your home, a sump pump will keep your basement dry and prevent flooding. In many areas of the country flooding is problematic. Installing a sump pump in your home's basement is a good preventative option if you have flooding concerns. Sump pumps not only protect your home from the damage caused by flooding, they also are good for the resale value of your home. Potential home buyers do not want to have to worry about flooding and any possibility that household items may be damaged or destroyed. In addition, flooding can cause mold and mildew that needs to be professionally cleaned in order to protect your family from harm.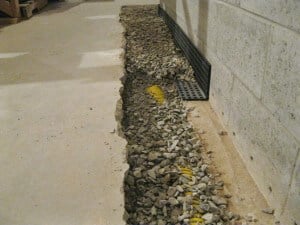 French Drains: Interior French drains can be installed in your home's basement fairly easily and in little as a few days. Although installing a French drain does require jackhammering into your basement floor, it can be a permanent solution to water problems. French drains typically run along the perimeter of one or more walls in the basement and catch water that comes from both inside your foundations walls as well as beneath the floor. The water is then redirected to a sump pump which will deposit the water on the outside of the home.
If you are looking to protect your home from condensation or flooding, then contact Advanced Basement. Our experts can assess your home and provide you with the waterproofing option that will work best for you. Be prepared, protect your home and family with interior basement waterproofing.